■ Specifications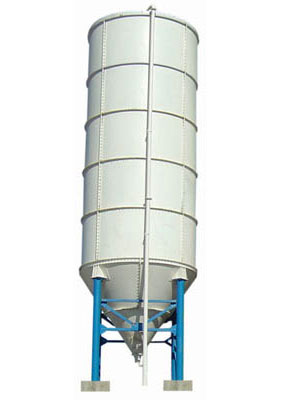 Hopper bottom silo, also called as cone bottom silo, hopper bottom storage bins, storage tanks, storage vessel, refers to cylindrical steel silo with a cone bottom. Generally, a funnel is needed in the silo for most material storage. For small silo storages, the steel hopper/cone can be fixed with the sidewalls. However for industrial silos with large diameter, to reduce the risk, the hopper/cone is designed to be supported by the silo bottom floor.
According to the customers' requirements and situations, the shape of the hopper or cone will be designed specifically to achieve the needs of the products to be stored. For some products such as food and grain, dangerous and safety concerns need to be eliminated.

Our hopper bottom silo contains complete drainage. The configuration of hopper silo depends on the type of material to be stored. In generally, pellet products require a 45° cone bottom silo while powder or other material which is hard to flow fits 60° cone bottom silo storage. All our hopper bottoms are designed in accordance D-4097 or ASTM D-3299 standards for elevated cone heads. Hopper bottom steel silo come standard with a primed carbon steel pipe leg stand with silo floor plates and a standard 18" under clearance from the silo bottom to the silo floor plates. That is to say, hopper bottom silo is your only choice if complete drainage is absolutely necessary. For the material of the leg stands, there are various options - FRP skirt support, T-304 or T-316 stainless steel pipe legs, Fiberglass Reinforced Plastic (FRP), painted carbon steel. If you have decided on hopper bottom silo design, what you should do next is to choose the right top. Contact us for more details and further information.
Why choose Bidragon hopper bottom steel silo:
► Good service: whether you purchase our steel silo, we will offer our professional technology for customer.
► Various capacity: this hopper bottom steel silo capacity from 50 ton up to 2000 ton.
► Short construction period: the experienced installation team and perfect silo design short installation time and low the cost.