■ Specifications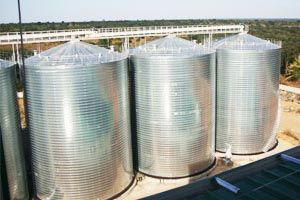 BIDRAGON is a reliable starch storage silo supplier in China, manufacturing silos for all kinds of materials, including starch, sugar, flour, salt and cereals. Competitive storage price.

Advantages of Bidragon Starch Storage Silo:

► All the components of our starch storage silos are produced with high degree of standardization.

► With superior component design, our starch storage silo can be installed within a short period of time.

► Ensure the safety and quality of the materials to be stored. BIDRAGON silos are equipped with relevant accessories – monitoring, drying, ventilation devices for example.

► Easy to maintain. Connected by standard bolts, the parts of the silo are easy to remove and repair.

► Reliable performance, competitive storage silo prices! The costs of steel silos are 50%~65% of cement silos with the same specification.

► Long tenure of use. The lifespan can reach 30 years. BIDRAGON storage silos are noted for their good sealing effect, quickly installation and great strength and wide application fields (Powered/liquid/pellet material storage).