■ Specifications
Powder silo is also called powder container, powder storage system, powder storage tank, powder storage vessel. This steel silo is mainly used in the industrial powder storage or food powder storage, such as lime powder storage, soda powder storage, flour powder storage, etc.

Specification of powder steel silo:
Materials: Double size hot galvanized steel plate, galvanization 275-600g/m2
Bottom: flat or hopper Type
Optional Auxiliary System: cleaning system, drying system, loading and unloading system,sweeping system, and monitoring system, etc.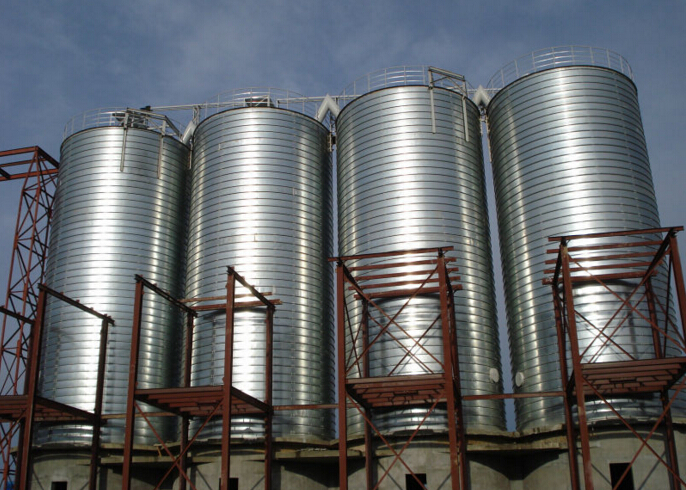 Advantages of powder steel silo:
► Long lifespan time: our powder steel silo design working time is 30 years, in the actual usage, this steel silo working time will be more long if customer operate according steel silo matainence instrument.
► Low cost: compared with square silo, this spiral steel silo takes up less ground. During the spiral steel silo, steel structure silo takes less ground than the concrete foundation steel silo.
► Short construction period: final installation period of each steel silo depends on the steel silo diameter & height.Generally the installation period of 1000 ton spiral silo will spend 7-10 working days.
► Various capacity: Bidragon steel silo is available from 300 ton to 10,000 ton with the hopper bottom or flat bottom steel silo.

Frequent Question & Answer of Powder Steel Silo:
1.How to deal with the anti-corrosion of power steel silo?
Answer:The galvanized steel plate is processed according to professional standard. If meet the rain, user can check if the steel silo roof has rust and take protective measurement.
2.Is the air slide suitable the power transporting?
Answer: yes.The air slide can be used to transport power and also can be equipped heater on the ends of the air slide.
3.How to deal with the power caking ?
Answer: The aeration tank will be installed to deal with the material caking.
4.How to deal with the steel silo roof leakage?
Answer:When coiling the steel silo, we do special measures on the silo roof, so the steel silo don't appear this circumstance.