■ Specifications
Cement silo top filter is one circular removable metal filter cartridge, in bottom which has 14 embedded circular holes connected 14 filters, and the filters are tied with vibrator on the hanger, when vibrator moving, the dust down into cement silo.

Cement silo filter is also called dust collector, mainly used in the barrel of various types of powder-like material dust collection.
According to the pore size of various powdery substances, such as cement, fly ash, stone powder, mineral powder, chemical powder, etc., designing filter through the maximum diameter of dust collector and the effect of adhesion on the pore size of the filter in order to meet the powdery material filtration requirements. Not only meet bulk truck pneumatic conveying requirement & dismounting finished product pneumatic conveying requirement , but also can ensure the warehouse no any negative pressure when powder material is used.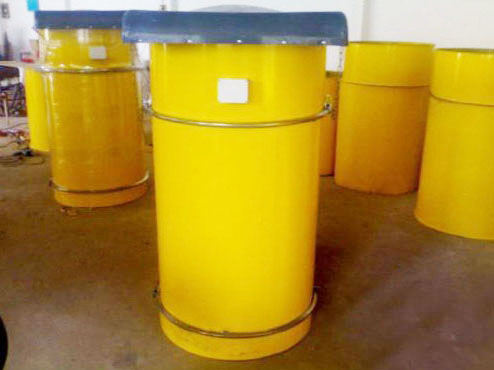 Technical Parameter of the cement silo filter:
Filtration area: 24㎡
Number of filter elements: 14
Exhaust air volume:> 1500 m3 / h
Filtration efficiency:> 99.9%
Cleaning method: intermittent vibration cleaning
Vibration motor power: 150 watts (380 volts / 50 Hz)
Structure: cylindrical
Diameter: 800 mm
Installation height: 1635 mm
Connection: Clamp connection (with seal)
Material: Carbon steel
Paint Color: Yellow / Gray / Red
Weight: 100kg