■ Specifications
Fly ash is one industry powder type. To storage fly ash needs to avoid wet air. Spiral steel silo is the best steel structure for fly ash storage. Bidragon spiral silo adopts imported LIPP technology from Germany. All of our steel silo are in round shape with diameter from 3 meters to 30 meter per silo.
Bidragon fly ash silo includes hopper bottom steel silo and flat bottom steel silo. The conical hopper bottom silo capacity always be small and not more than 2000 ton. Each fly ash silo will be equipped with some accessory equipment, such as vibrator on silo hopper, aeration box on silo hopper, in order to ensure the fly ash discharge smoothly. The flat bottom silo always has invert cone inside steel silo bottom, whose function is to reduce the pressure when discharging fly ash from the center of steel silo top. For this type, the invert cone can avoid the fly ash flowing down to the aeration box directly. Here, the aeration box is used to make the fly ash discharge smoothly. During the flat bottom silo for fly ash storage, sometimes we will design several invert cones inside silo bottom.
Bidragon ash silo structure includes steel structure and concrete foundation structure. Steel structure foundation silo is always be small and this small silo capacity is less than 1500 ton, while the concrete structure foundation silo generally big and silo capacity is more than 1500ton.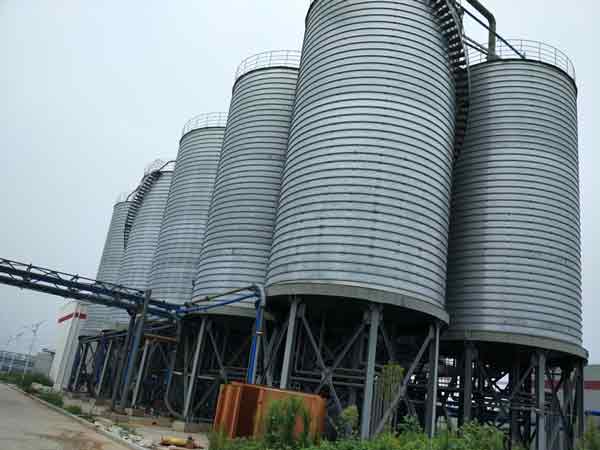 Outstanding Features of Fly Ash Silo:
►The edge of spiral silo is five times thickness than that of silo shell. No leakage of air, even powder.
► Steel structure silo is easy to install, short installation period, and save labors, long life time—more than 30 years.
► The capacity can be from 50 ton to 10,000 ton per silo.
► Require less maintenance.
► Long working life
► Ability to utilize higher grade coatings.
Advantages of Fly Ash Silo:
1.Low cost: Compared with the concrete structure silo, the steel structure silo can save the foundation cost of about 30% ~ 50%.
2.Short Installation : Compared with concrete silo, Spiral steel silo can save much time. Take the 1000 ton cement silo for example, which will take 7-10 working days to install one spiral steel silo, while it will take at least 20 days to install the concrete silo.
3.Waterproof and anti-corrosion: Bidragon fly ash steel silo adopts galvanized steel sheet, which steel sheet not only waterproof, but also prevents corrosion.
4.Good leakproofness and damp proof: Using the advanced technique of suture, Bidragon fly ash steel silos all have good sealing performance.