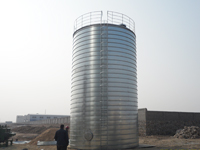 Beijing Double Dragon International Industrial &Mining Machinery Co., Ltd is a professional supplier of double sides galvanized spiral steel silos.Bidragon spiral steel silos are widely used in Agriculture,Industry and environmental protection,such as grain silo,wheat silo,corn silo,feed silo,seed silo,cement silo,pellet silo,lime silo,and so on. Our steel silos have successfully entered the international market.We provide users with 50 to 10000 tons of different kinds of silos.Bidragon silos are exported to Austrilia, Russia, Mexico, Cote d'lvoire and other countries.
At Bidragon Group, we are constantly reviewing new products and technologies to meet future customer requirements. Our mission is to increase the profitability of our customers by delivering reliable, cost-competitive solutions.Looking forward to more customers,working hard for your and our development together.



Our factory was established in 1996, meanwhile began installation, anticorrosion and heat-preservation steel works. Our registered capital is RMB10,180,000, after several years development, we mastered a complete set of technologies for profiling equipment (SM40, SM50).now, our company occupied five sets of double profiling equipment(SM40,SM50), with annual production capacity of steel silo exceed 800,000m3.
Our main products include Agricultural silos, Industry silos, Storage silos and Environmental production silos and so on. We can provide high quality and inexpensive goods in accordance with customer requirements. Our products have been sold to home and abroad, such as Austrilia, Russia, Mexico, Cote d'lvoire and other countries. Looking forward to more customer, work hard for your and our development together.

We have strong technical force including more than 20 professional design persons, our hardware equipment is perfect, we have 20,000 square meters of manufacturing plant contained more than 20 sets of production equipment, such as SM40, SM50 spiral bit edge line of manufacturing complete sets.
Our annual steel silo project contracting is 800,000 cubic meters. The projects spread to all of Chinese provinces, autonomous regions and municipalities. We have hundreds of engineering models, welcome new and old clients to visit and guide.



1. Professional documentation team: With more silo project exported from Bidragon group, our documentation team has accumulated much experience and can deal with export formalities within shortest time.
2. Professional installation team: We Bidragon Group has our own installation team, which team is farmiliar for the SM40, SM50, SM60 forming machine and has installed many steel silos project at oversea, so we can finish the silo project installation in shortest time under the condition that all preparation is ok.


1.Good Quality: All steel silo material is made in our factory under the strict supervision, and the steel sheet will & sheet coil will be with antirust paint in order to keep the material from
corrosion resistance of the sea water during the sea transportation.
2.Good airtight performance:
Due to special silo installation machine for wending and biting, and advanced coiling silo tachnology, each part of steel silo is perfect and the whole silo is particularly good sealing.
3.Widely application:
For the good sealing feasures, Bidragon steeel silo is widely used in different field, such as grain storage, cement storage, fly ash storage, slag storage, lime powder storage, soda powder storage, etc.
4.Large volume:
Bidragon steel silo accepts customized silo and offer customized design for steel silo with diameter from 3m to 25m, height from 10m to 35m, etc.
5.Professional technology team:
Bidragon has professional design team for steel silo, with person about 5 senio engineers and 10 assistant. Of course, we also equipped with professional sales for steel silo.