■ Specifications
Corrugated steel silo application:

Corrugated silo is widely used in bulk grain storage, such as wheat storage, corn storage,poultry feed storage, cement storage, fly ash storage, etc. This corrugated storage silo volume is various from 300 ton, 500 ton, 700 ton, up to 7000 ton. etc.
Hot dip galvanizing steel is the raw material for corrugated silo sheet.The zinc is 275g/m2, anti-corrosion function.
Corrugated shape's strength is higher than that of the flat plate.

Features of corrugated steel silo
1. Large capacity

One single steel silo capacity is up to 17,000 tons with comprehensive configurations to meet customers' different requirements.
2. High accuracy
Complete advanced processing equipment and technology are introduced from USA to effectively ensure working accuracy and reduce damage to galvanized layer.We imported international high quality full automatic processing equipment and technology, to assure process precision.Bolted steel silo or assembly steel, its material is made by mechanical rolling and molded into type corrugated plate punching, when erected, the worker use electric torque wrench through high strength bolt to connect a steel plate. Plate usually use galvanized sheet, the thickness between 0.8 ~ 8.4mm, sometimes the silo wall thickness can reach 8.4 mm. Corrugated type wall plate rolling method is used to process mostly by mechanical forming production line into mass production, can fully automatic production of various specifications of corrugated board production line. Roller pressure method has the advantage of wave type of successive forming, to eliminate internal stress, small resilience; the production of this type plate quality is very good, even if a thick steel plate is also available in forming unit assembly line molding
3. Less residues
External installable stiffeners contribute to less grain residues on silo walls.
4. Detachable and movable
With standardized and modularized production, components and parts have a high standardization and good interchangeability, thus can be partially replaced or completely transferred.
5. Less cover area, easy to manage
Minimum distance is 500 mm between silos, we can make full use of space, reduce cover area. The silo combined with temperature measuring system, material level indicator etc.to make management more convenient.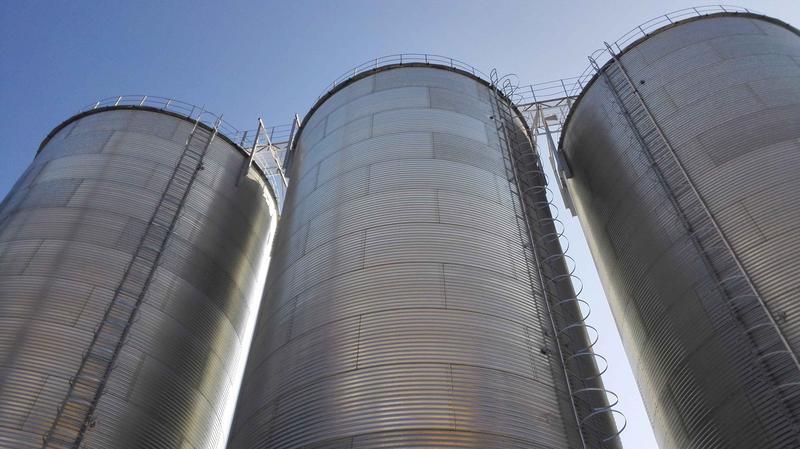 Components of this steel silo:
► Cleaning and dedusting system enables the steel silo easy to load grain or other material.
► Transmit and conveying system make the steel silo load and unload material automatically.
► Material level detection system can monitor the steel silo inside level.
► Ventilation System make the steel grain silo have long lifespan ( over 30 years ).
► Temperature monitor system enables customer detect silo inside temperature at any time, good for the grain storage.