■ Specifications
Versatile silo system allows quick construction of storage facilities in a new or existing building. The different silo elements can easily be assembled into a storage system that perfectly suits the customer's needs and premises.
square silos blend well with the environment. When installing a square silo, the space available can be utilized efficiently and the vertical poles carries the load of square silo building structure. After sealing by a suitable sealant, the elements are directly usable as external walls. The elements and posts can also be painted to the desired colour.

Why a square silo?
When is a square silo the right choice; what are the advantages of a square silo? In short: why a square silo? The most important thing is of course that a silo meets your storage requirements. And a square silo has a lot of advantages:
Why a square silo?
A square silo has over 25% more storage capacity compared to a round silo. A square silo saves space, quite simply because the full surface area is used. Square is the right shape for maximum capacity for bulk goods.
Flexibility and traceability
The modular structure with variable cell dimensions makes it possible to store different products and grades, in different amounts and from several origins, at the same time in the same place. In short, maximum flexibility over a minimum surface area.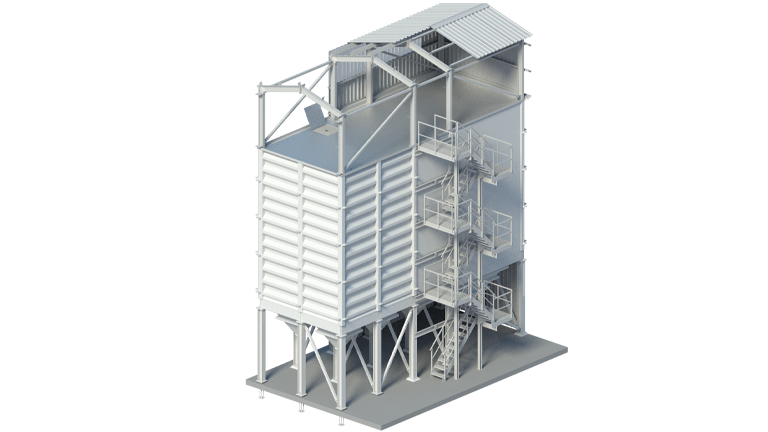 Beijing Double Dragon Steel silos with high quality have been exported to many countries. In the early of 2021, Bidragon successfully delivered square silos raw material to Indonesia client. Bidragon can supply customized steel silos, This time square silo size is designed according to customers requirement and customer will store plastic pellet in the silos.
Due to the epidemic situation, our technicians were unable to go abroad for installation. Fortunately, the customer's installation workers were very skilled, they installed the equipment in half a month, when face trouble, we will prepare drawings and relative photos and videos for their understanding. Congratulations to our good customers and wish all of our customers prosperous business.