■ Specifications
Modern agriculture is faced with a great many tasks today – including the proper grain storage, reuse or disposal of a broad range of different media, from crop yields to bulk materials, liquid manure or vegetable and animal waste. The steel sil is used for grain storage and transportation, which storage system is composed of grain drying system, loading and unloading system, sweeping system, temperature control system, level material monitor, etc. All the equipped system is ensure the grain inside steel silo dry and good quality in order to reuse when need.

Wheat Silo Installed on-site by the company's own fitters and with its own space and time-saving assembly system in a variety of sizes, the uniform high quality of all systems is ensured. In the process, the systems are offered either as a complete solution or in individual components together with selected accessories depending on the requirements.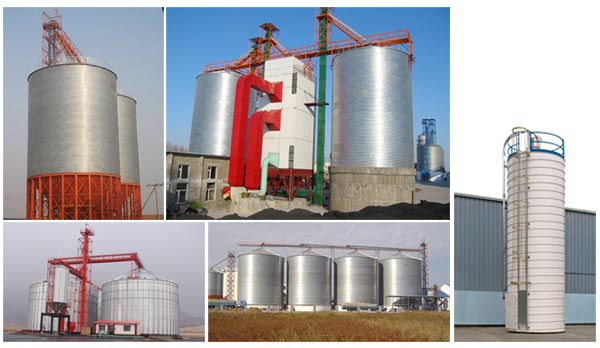 Parameter of Grain Silo:
1. Diameter: from 3m to 25m
2. Height: from 10m to 30m
3. Storage Capacity: from 300 ton to 10,000 ton

Why Choose Bidragon Wheat Silo:
►Professional design: each wheat silo is designed by the professional team after discussed the local site and customer actual need.
►Low cost: experienced installation team short the installation time so that save time for customer
►High quality: all steel silo parts are manufactured in a factory, so the quality can be totally controlled
►Good service: offer free steel silo design, good pre-sale and after-sale service, 24 hours on line service